Occasionally, there are those times when your yard may need a thorough cleanup. For example, a home that has been vacant for a period of time, a home that is about to go on the market or a home after severe weather. Sometimes, it just helps to maintain the beauty and appearance of your yard to have a regular cleanup every few months.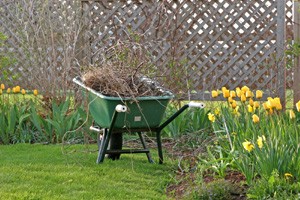 Whatever the reason, Budget Landscape & Maintenance, Inc. can provide expert yard cleanup and debris removal for a very affordable price!
Just some of the services we offer in our one-time yard cleanup include:
Lawn mowing and edging

Cutting back plants along walkways

Pruning shrubs, plants and hedges

Cutting away ivy or overgrown vines

Removing leaves and other debris

Mending plant beds

Cleaning walkways of debris

Trimming low tree branches along walkways

Removing weeds

Hauling off of all yard waste
Contact Budget Landscape & Maintenance, Inc. today for a free estimate on your next big yard cleanup. We also specialize in ongoing lawn care and complete yard maintenance plans for year round beautification of your outdoor area.